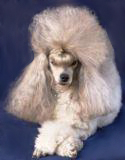 G8rcreek Poodles
G8rcreek Raise Your Glass CGC (retired)

Parents
Grand-Parents
Great Grand-Parents
UACH Raven Ki Tzar Of Kizbit OA AXJ NJP NAP CD,
blk., PP634039/01 11-00
Hemker's Lil Oscar T Grouch,
blk., PP518540/02
Youngster's Dusty Dan, blk., PP378373/01 12-95
Breezy Point's Ruthy, crm., PP391377/01 10-93
Royal Raven Kizbit, blk., PP501005/01 11-96
Rambo Napoleon Sudeth, blk., PC1502122
Holly's Choc Carmel Princess, brn., PP441999/03 03-95
Sunsprite Rhetoric Close Call, Si., PR089446/01 03-06
Laurelbury Elliott
Laurelbury Calypso Joe
Laurelbury Bonnelle
Beaus N'belles Silver Serenade, si.
Beaus N'Belles Silver Pegasus, si.
Beaus N'Belles Scintillating

Pearl is our blue girl. She made her showring debut at the Griffin Georgia Kennel Club Match earning Best Puppy in Show and Toy Group First!

Pearl is a sweet heart and is always looking for pets, scratches, and love with a wagging tail and wiggly body.

Optigen PRA prcd clear.

OFA.org information

CHIC Certificate pdf

Clear Optigen PRA prcd Testing pdf

Please contact us for additional information and testing.
Copyright 2014 G8rcreek, Design by
G8rcreek