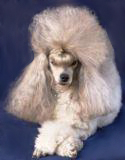 G8rcreek Kids In Their Homes
G8rcreek kids are some examples of the puppies that we have produced. These are pictures by their families showing their life with their families. We love hearing and seeing how our "kids" are doing in their forever homes. If you have a G8rcreek Kid and have a story or updated picture we would love to hear/see it and let us know if we can share it too!
MACH UKC Altered MBIS ALCH UAGI UAGII Shir-Lee's G8rcreek Tomcat Too CDX MJG MXS RE VCX
Tommy is Lena's litter mate and is owned by Barbara in New York. Together they are successfully pursuing an Obedience and Agility career. Tommy shares Barbara with her 2 Labrador Retrievers, Reggae, and Oliver.
G8rcreek Dilly Dally

Dilly lives in South Florida as a loved pet and grooming competition dog. Dilly has 3 Grooming show Best In Show wins!

**** NEWS FLASH **** Dilly goes Best in Show at the 2012 New England Pet Grooming Professionals Inc. Summer Fest Grooming Competition!

Rinoa
Rinoa lives in Maryland with owner Chris. She is a great co-pilot and traveling companion for Chris. Rhinoa is a born silver litter mate to Champion Bri and sister to Champion Penny and Splash.
G8rcreek Bizzie Boy
Bizzie enjoys the Florida west coast with his owners, Sally and William. He is a ball retrieving fool when he is not hiding in his toys! Bizzie is a litter mate to Champion Tuck, Nickoli, and Ruby.
Laci
Laci splits her time between North Atlanta and Tampa with owners Vince and Karen. She is a welcomed guest here who loves to play ball with Alexa and Vogue.
Nickoli
Nicoli (left) lives in Atlanta with his "sister" Pennie and owners Julie. We hear that he also has a pair of turtles as friends too!
Snowy & Brulee
Snowy & Brulee live with Lil and Jim in sunny Florida.
Copyright 2014 G8rcreek, Design by
G8rcreek