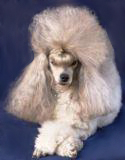 G8rcreek Pets and Critters
G8rcreek Blip On The Radar

Blip is a daughter of Champion Jett and Mili. Blip earned a third place in her first show at the 2013 Poodle Club of America National Specialty show. We did not pursue her show career.

Born: October 2012

Optigen PRA prcd clear.

Blip
Blip
G8rcreek Raise Your Glass CGC

Pearl is a blue toy girl. She is a girly girl who loves her love and is always in a tail wagging happy mood.

Optigen PRA prcd clear.

Born: September 2012

Pearl
G8rcreek Gulfbreeze Right to The Point CGC

Rahmani is a black standard poodle from Champion Vogue's first litter. Rahmani is a sweet natured loving lady.

Rahmani is co-owned with Roxanne Chrisman (Britmarc Standard Poodles).

Rahmani
Rahmani
Sunsprite Tina Ballerina

Tina is a 9 inch Tigger daughter in a very refined package. Tina placed 3rd in her Poodle Club of America class in 2010 and represented her sire for Stud Dog.

Thank you Rhett and Mike for letting us have this darling spitfire.

Born: August 2009

Tina
Tina
G8rcreek Raven Lounge Lizard

Splash is a litter mates to Champion Penny and half-brother to Champion Bri. Although he has not performed in recognized events such as Agility, Obedience, or Rally. He is a hard working dog at home where he and Tzar are in charge of herding in the chickens each evening. This "chicken-up" task involves being able to track, flush, and herd the chickens working both individually or in a team.

Born: February 2008
Otto the All Over Cat

Otto, is the head puppy raiser and cat who thinks that he is a poodle. Otto was hired on January 2016.

"Otto"
Romans Majestic Kid

Tyler is our AQHA IBHA 2001 buckskin gelding by World Champion Halter Stallion DS Roman Kid Clu. Tyler is a sweet boy and easy ride for novice riders but has plenty of tricks and maneuvers for the more experienced rider. Our horses are only used for our riding pleasure. Tyler is HYPP N/H and currently managed thru diet.

Born: April 2001

"Tyler"
Birds

We also have a flock of chickens and Guinea fowl for entertainment, distraction, and of course eggs!

"Here Chick Chick"
Copyright 2014 G8rcreek, Design by
G8rcreek