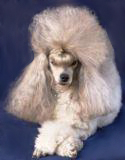 G8rcreek Poodles
Parents
Grand-Parents
Great Grand-Parents
Am. GCH Ch. G8rcreek Sunsprite Better Not J-Walk RN CGC TP, si., PR180818/03 10-14
MACH2 Am GCHB Can/UKC CH U-AGI G8rcreek Far Far Better CD BN RA MJG MXG OF CGC VCX TP si., PR148283/02 10-10
Am. Ch. Darbon Time Will Tell, wh., PR122878/01 09-08
Am. Ch. Shir-Lee's G8rcreek Charlene, si., PR117090/02 04-08
Sunsprite J-Walk TP, si., PR140512/01 10-11
Am.Ch. I Am Ziegfeld's JJ, blu., PR056056/01 05-06
Sunsprite Rhetoric Morganza, blu., PR069700/01 09-07
Am. Ch. G8rcreek I Am Pizzazz,
si.
Am.Ch. UACH Beaus N'Belles Tigger Too AXJ OA NJP,
si., PP651144/01 05-01
Am.Ch. Beaus N'Belles Presto Change-O
si., PP477866/01 08-97
Beaus N'Belles Angelica, si., PP57673/03 02-01
Benmars BN'B Silver Mercedes, si., PP640818/01
Am. Ch. Ben-Mar's Zoom Zoom, wh., PP656221/01 09-01
Ben-Mar's Sulver Jewel

"DidIt"

DidIt is a cream champion daughter of TJ and Bri.

PRA prcd clear (Paw Prints Test).

OFA.org information

CHIC Certificate pdf

Clear OFA PRA prcd Testing pdf

OFA Patella Normal pdf

OFA Eyes pdf


DidIt
DidIt's First Major
DidIt's Second Major and New Champion!
Copyright 2014 G8rcreek, Design by
G8rcreek