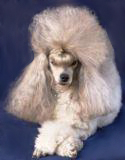 G8rcreek Poodles
G8rcreek Raven In Fantasia (retired)

Parents
Grand-Parents
Great Grand-Parents
Am.Ch. UACH Beaus N'Belles Tigger Too AXJ OA NJP,
si., PP651144/01 05-01
Am.Ch. Beaus n'Belles Presto Change-O
si., PP477866/01 08-97
Am.Ch. BEAUS N'BELLES SLV'R HOCUS POCUS, si., PP421956/01 12-95
Beaus n'Belles I Love Lucy, si., PP373232/01 11-95
Beaus n'Belles Angelica, si., PP57673/03 02-01
Am.Ch. CONSENTINO ANSEL, si., PP249060/02 04-92
Ben-Mar Cupie Doll at Bn'b, si., PP438356/04 03-97
Oka Mocha Mud Pie,
si beige., PP634039/03 11-00
Hemker's Lil Oscar T Grouch, blk., PP518540/02
Youngster's Dusty Dan, blk., PP378373/01 12-95
Breezy Point's Ruthy, crm., PP391377/01 10-93
Royal Raven Kizbit, blk., PP501005/01 11-96
Rambo Napoleon Sudeth, blk., PC1502122
Holly's Choc Carmel Princess, brn., PP441999/03 03-95

"Asia"
Asia's Testing

Asia is platinum silver social butterfly who adores her family and visitors. After a tough decision to end her conformation career without finishing she was shaved down and it is apparent that she found her true calling as a superb mother and outstanding pet. After Asia's 3 wonderful litters she has been retired from breeding.

Asia is a champion producer and mother to "Jett" and "Reggae"!



Clear PRA-prcd test pdf

Asia as a puppy
Asia's Poodle Club of America 4th place owner handled under Judge Dana Plonkey
Asia's Major handled by Michael Lobinske under Judge Linda Sciacca-Tilka
After an honest try in the conformation ring Asia has taken her final bow and is pursuing motherhood.
Asia is now enjoying all the advantages of not being in show hair can allow.
Asia has always liked to find creative spots to sleep.
Copyright 2014 G8rcreek, Design by
G8rcreek