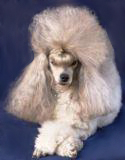 G8rcreek Poodles
CH Sunsprite No More Drama (retired)

Parents
Grand-Parents
Great Grand-Parents
Am.Ch. UACH Beaus N'Belles Tigger Too AXJ OA NJP,
si., PP651144/01 05-01
Am.Ch. Beaus n'Belles Presto Change-O
si., PP477866/01 08-97
Am.Ch. BEAUS N'BELLES SLV'R HOCUS POCUS, si., PP421956/01 12-95
Beaus n'Belles I Love Lucy, si., PP373232/01 11-95
Beaus n'Belles Angelica, si., PP57673/03 02-01
Am.Ch. CONSENTINO ANSEL, si., PP249060/02 04-92
Ben-Mar Cupie Doll at Bn'b, si., PP438356/04 03-97
Sunsprite Saving Grace, Blu., PP640818/01
Am.Ch. Sunsprite Rhetoric Time And Again, wh., PP664427/01 09-01
Sunsprite Time Trax
Royal Delta Time Trax
Sunsprite Rhetoric Close Call, Si., PR089446/01 03-06
Laurelbury Elliott
Beaus N'belles Silver Serenade, si.

"MJ"
MJ's Testing

MJ is a Champion Tigger daughter and littermate to Tina.

MJ is co-owned with Mike Lobinske.

Bred-by Michael Lobinske and Rhett Bockman.

Optigen PRA prcd clear.

Optigen PRA Clear pdf

OFA PRA Clear pdf


MJ (right) as a puppy
MJ and her Christmas puppy 'Turtle'.
Copyright 2014 G8rcreek, Design by
G8rcreek