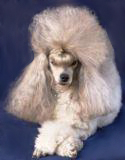 G8rcreek Poodles
CH Shir-Lee's G8rcreek Charlene (retired)

Parents
Grand-Parents
Great Grand-Parents
Am.Ch. UACH Beaus N'Belles Tigger Too AXJ OA NJP,
si., PP651144/01 05-01
Am.Ch. Beaus n'Belles Presto Change-O
si., PP477866/01 08-97
Am.Ch. BEAUS N'BELLES SLV'R HOCUS POCUS, si., PP421956/01 12-95
Beaus n'Belles I Love Lucy, si., PP373232/01 11-95
Beaus n'Belles Angelica, si., PP57673/03 02-01
Am.Ch. CONSENTINO ANSEL, si., PP249060/02 04-92
Ben-Mar Cupie Doll at Bn'b, si., PP438356/04 03-97
Am.Ch. Shir-Lee's Artic Cat, wh., PP640818/01
Am.Ch. Shir-Lee's White Limozene, wh., PP559767/02 06-98
Am.Ch. Rochars Little Mustang TP, wh., PP372537/06 03-93
Am.Ch. Beaus N'belles Touch Of Class II, crm., PP471659/02 11-95
Tantalite Tamango Creamsikle, crm., PP557647/02 06-98
Am.Ch. Zamora's Country Style, wh., PP473174/01 01-96
Am.Ch. Tantalite Chelsie's A Star, crm., PB482123/02 04-96

Lena is a stunning and high drive silver girl. She was poised to be a puppy champion earning 12 points and 2 majors but she had to take over a year off to recover from breaking a leg in an accident. Lena returned and finished her championship with a third major.

Lena is a champion producer with her first puppy to show "Oliver" (MACH2 Am GCHB Can/UKC CH U-AGI G8rcreek Far Far Better CD BN RA MJG MXG OF CGC VCX TP) is a Champion at 12 months old. Oliver is sired by "Dickens", CH Darbon's Time Will Tell owned by Tallyho Poodles. "Reckless", (CH G8rcreek Upsan Downs) is Lena's daughter from her final litter.

Co-bred with Shirley and Joel Malcolm of Shir-Lee's Poodles

PRA prcd Carrier.

Lena today
Lena's first points owner handled under Judge Robert Banghart
Lena's First Major owner handled under Judge Shelley Hennessy
Lena's second Major handled by Michael Lobinske under Judge Richard Mullen
Lena's Third Major and Finishing Win under Judge Terry Berrios.
Lena's boys "Oliver" (left) and "Twist" (right) sired by "Dickens" at 4 weeks old.
Copyright 2014 G8rcreek, Design by
G8rcreek